Thank you so much
The below are not in any particular order, though their support both financial and in 'kind' is greatly appreciated, in some cases more than the companies themselves may realise.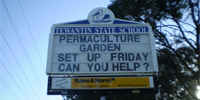 If you have the opportunity to support them with your needs, please do so, as their continued support of this programme enables the programme to continue.

Some of the below have assisted our gardens with goods and services, some have donated time or money. An edible garden does not create itself, and the combined support of the community and commercial concerns like the below allow the schools to participate in the Edible School Gardens program and more importantly, give the children who participate in these schools the opportunity to learn about health and build life-long skills and knowledge of participants, enabling communities to grow towards a more environmentally sustainable future.
Slow Food Noosa
School Kitchen Garden
sub committee Leader & deputy Secretary
Katrina Ryan
Phone: 5448 3322
Email: mkryan@goldenpig.net
website: www.slowfoodnoosa.com

Slow Food Noosa are about to sponsor their 5th School and have been a great supporter of Edible School Gardens with both funds and some of Noosa's top chefs to come along on Harvest Day which is a great thrill for the kids and an awesome way to reap the benefits of the kids hard work. Through its understanding of gastronomy with relation to politics, agriculture and the environment Slow Food has become an active player in agriculture and ecology. This of course also feeds through to a committment with our youngest eaters benefit from Slow Food in Schools through kitchen gardens or the likes of Edible School Gardens.



My Sunshine Coast Life
P.O. Box 38
Cotton Tree, QLD. 4558
Phone: 07 5455 4832
Email: info@mysunshinecoast.com.au
Website: www.mysunshinecoast.com.au

The Crew at MySunshineCoast have always been very supportive of Community Groups and any events, or notices that I may have had over the past years. They have a Community Support Initiative where any community or non-profit groups get exactly the same sort of exposure online as a Commercial client. My permaculture for kids has benefitted greatly from this free advertising over the years and is really appreciated.



Permaculture Noosa Inc.
PO Box 619
Cooroy Qld 4563
email: info@permaculturenoosa.com.au
web: www.permaculturenoosa.com.au



There are approx 200 members in the Permaculture Noosa group or which they give me endless support. Members donate their time to help set up school gardens, donate edible plants, products, support our supporters, and are there for my endless questions I have about plants, pest and recipes. I never worry if I am presented with a garden problem as I know there will be many members in the group whom I can approach for answers. They are constantly there to support me personally as well.



Kingfisher Boat Hire
Noosa Marina
Sunshine Coast
Tewantin Qld 4565
T: (07) 5449 9353
E: kingfisher@boathirenoosa.com
W: www.boathirenoosa.com

Kingfisher Boat Hire have been brilliant! When we had major issues at the Tewantin State School project they very gallantly came to the rescue. Both myself and the school are very grateful for the major sponsorship they have given us on this project, and their community spirit in making such a quick decision to ensure that the project, and more importantly the kids, were not left in the lurch. The owners of this operation are lovely people and I would urge that you support this business!



Nutri-Tech Solutions
7 Harvest Road,
Yandina, QLD, Australia, 4561
Telephone: +61 7 5472 9900
FAX: +61 7 5472 9999
E-mail: info@nutri-tech.com.au
Website: www.nutri-tech.com.au

Nutri-Tech very kindly donate minerals & fertilised organic products to the Edible School Program for which we are very grateful. NTS specialises in the relationship between soil health, animal health & human health and have become a recognised world leader in biological agriculture. They have the largest number of products certified for organic farming of any organisation and offer cutting-edge education to ensure success in sustainable agriculture. Their product range includes mineral fertilisers, humates, liquid fertilisers, microbial inoculums and also features animal & human wellness solutions. Thanks to Graeme Sait and Robyn Cook.

ROCKCOTE
Marjon Centre
21 Trinder Avenue
Maroochydore
P: 07 5479 3900
p: 1300 736 668
Website: www.rockcote.com.au

The paint and buckets we receive from ROCKCOTE really help brighten up our garden area and really enhance the whole space for the kids to be even more creative with their gardening. Our thanks go to Bob and Chris Cameron who have always been so supportive of the kids and the Edible School Gardens project. ROCKCOTE is a multi-award winning company, specialising in advanced architectural coating systems that take inspiration from the past, to create innovative solutions for today.



Queensland Organics
112 Potassium Street
Narangba QLD 4505
Phone: 07 3203 1379
Fax: 07 3203 1425
Email: info@qldorganics.com.au
website: www.qldorganics.com.au

Neil Peterson very kindly donates Organic Extra to the garden program, a 'boost' to the garden, and the programme! Queensland Organics has been manufacturing a range of high quality organic and organic based fertilizers for over 9 years. They manufacture a standard range of products to provide a basis for most applications in general garden, lawn and sport turf and food preparation. For more specialized needs they can design and custom blend particular to your requirements.



Subtle Difference Online Solutions
Phone: 07 5455 4831
Email: sn@subtledifference.com.au
Website: www.subtledifference.com.au

Website: www.subtledifference.com.au Stephen at Subtle Difference very kindly designed this site for me, and even more importantly has freely given me use of his custom developed software that runs the site so that I can look after it myself. Even tech type people can appreciate and support the environment, for which I am grateful.


Bassett Bark
Mt Beerwah Road
Glasshouse Mountains
Phone: 07 5496 9133
Fax: 07 5496 9689
Website: http://www.bassettbarks.com.au/

Bassett Bark has supported our edible school garden projects with quality soil mix. Bassett Bark With a strong commitment to environmental sustainability all bark products manufactured by Bassett Barks Pty Ltd are made from plantation timbers and recycled milling material using Australia's most advanced processing technology to produce premium, high quality products.

McLeod's Agriculture
Office Free call: 1800 062 616
http://www.mcleodsorganicfertiliser.com

Bevan McLeod has always been a passionate supporter of the Edible School Garden program. McLeod's Organic Soil Conditioner is specially formulated to maintain moisture and improve soil health. It has a range of minerals and healing products for your soil including microbes, zeolite and aged organic matter.

Aerobin
Unit 4, 18-22 Lexia Place, Mulgrave, Vic 3170
Phone: 1800 615 445 (free call in Australia)
Website: https://www.aerobin400.com/

Aerobin With so much waste in our school we need to demonstrate to the students that waste can turn into productive living soil by making compost. We thank Aerobin for donating one of their bins.

Di Harris Photographics

07 5485 1066

www.



Di is a photographer specialising in baby, children and family photos and she has been coming along to my Edible School Garden sessions at Cooran State School and capturing the 'story' of the program. I love the photos that Di has taken and on the Cooran web page you will see just a small preview of photographs that Di has taken for us. She has an eye for detail and I thank her.
SPONSORS DONATIONS WANTED
Unfortunately schools don't have the funding for permaculture gardens even though the health of our children, even more so today, is one of the most important issues faces this generation and further generations. We need your support today. If your company or yourself would like to contribute to the expansion of the edible school gardens to many more schools in Queensland, no matter how small, your contribution would be greatly appreciated. Please contact Leonie Shanahan