Sponsored By Slow Food Noosa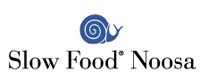 Noosaville State School
Sponsored by Slow Food Noosa
The first school to be sponsored by Slow Food Noosa was set up in 2007. All Year 6 students were involved in the project and the garden was set up right outside their classrooms which was brilliant.

At any time, teachers could keep an eye on the students if they had gone into the garden for an activity or even to watch what we were doing on gardening days.

This school has lots of parkland around it and therefore lots of visiting wildlife, mainly kangaroos and ducks, so we have grown a living fence of food that these animals like hoping that they will eat from these medium sized plants and leave our salads and vegies alone.

Travelsmart Noosa donated native trees to the project to recognize the many students riding their bikes to school. We planted these on the lower west side of the garden to provide some shade.

Whenever we had lots of produce coming on, we would contact Slow Food Noosa and either Matt Golinski or Katrina Ryan would come and cook with the students - see Harvest Days

All grounds people were extremely supportive of the project and wonderful to work with.


The project finished at the end of last year and now the grounds woman gardens with the Year 6 students a couple of afternoons a week and the garden is thriving.