Celebrate
Your Living Backyard
with thisexciting one day event on
Saturday 15 June.
The forum presents eight inspiring presentations for a sustainablefuture for your own backyard. Growing your own is fresher, tastedelicious and saves on food miles
On this day, you can learn how to:
Set up new garden beds or small spaces
Assess and improve your soil organically
Chose plants with great returns
How to adopt seed saving techniques
Keep chickens in the backyard
Increase the biodiversity of your sustainable backyard byfeaturing native Australian flora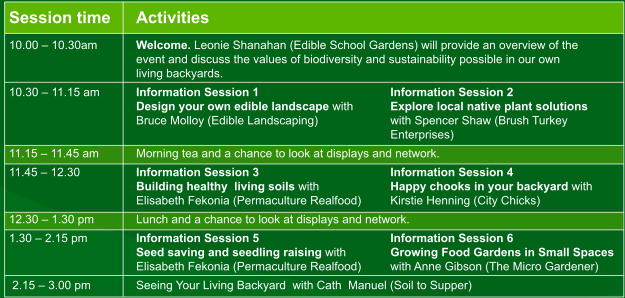 Where: Lake Kawana Community Centre
When: 9.30am - 4pm
Cost: $10 (includes morning tea and light lunch)
Bookings: Visit the Green June page on Thecouncil's website at www.sunshinecoast.qld.gov.au
or phone (07) 5475 7272

Need A Guest Speaker?
Have an upcoming conference, seminar or workshop. Leonie is a passionate speaker with extensive experience in edible gardens focusing on childrens health. Enquire here...
Click here
Latest News
Join our Newsletter
Find out the latest news and happenings with Edible School Gardens.
sign up here >>