Eat Your Garden
Organic Gardening for Home and Schools

This book is a feast of edible gardening ideas. Centred around how to inspire children in the garden, BUT, kids or no kids,EAT YOUR GARDEN is a handy addition to any good gardeners collection.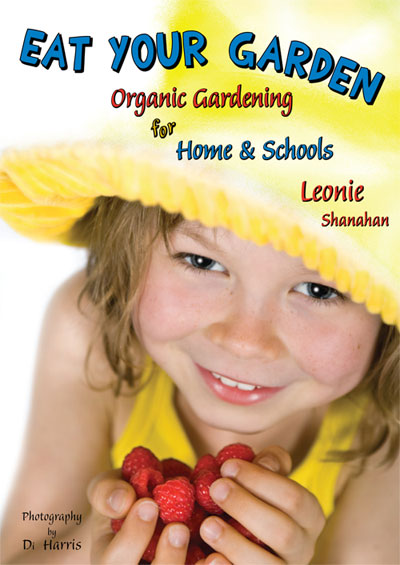 It's an inspiring, fun and practical guide to all things gardening!

Includes practical information on a range of gardening essentials including .....
Comprehensive monthly planting guides
Guidelines for garden design
Worm farms and worm towers
Edible flowers
Soil pH and ideas on building soils
Tank gardens and theme gardens
Practical pest control ideas
Processes involved in creating fantastic no dig gardens
Growing green manure crops and using inoculates
Herbs for health, including cordial and herb teas
Nutrition in your plants and nutrition in you
Growing in pots and recipes for incredible potting mixes
Seed saving and growing sprouts
Easy references to other relevant vegetable gardening resources, including websites, books, radio etc
Leonie's vision of developing edible gardens within school communities has encouraged healthy eating habits amongst thousands of children, parents and teachers. With EAT YOUR GARDEN, Leonie has compiled that experience into a practical guide which truly demonstrates, for the rest of us, the 'edibility' of our gardens.

EAT YOUR GARDEN will ensure you grow your own and eat it with gusto, knowing the nutritional content of your home-grown food is worthy of the fun and effort it took to grow. Step out of the mould, embrace your garden and stop the endless trips to the supermarket/organic store!

Click here to ORDER Your copy of "Eat Your Garden by Leonie Shanahan"

Click here to get a 'sneak peak' at 'Eat Your Garden...