Lyme disease Sucks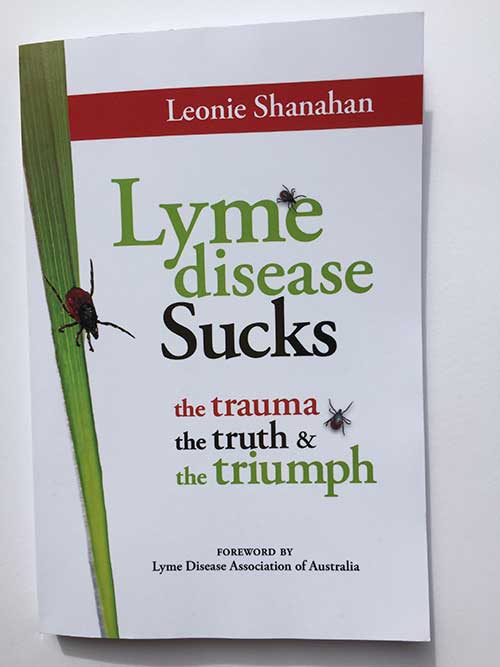 Lyme disease Sucks
What would you do if you were diagnosed with Lyme disease?
That was the question Leonie Shanahan faced. when she saw the word positive in black and white.
Leonie's journey from being a vibrantly active and dynamic speaker and organic gardener, to a woman struggling to get out of bed and function, was a long and hard fall.
But when she reached out to the medical community and the systems she needed for support, they refused to believe her. "We don't have Lyme disease in this country!" they said.
Undeterred, Leonie was not about to give up. She refused to fill her body with drugs and instead went on a journey of discovering alternate therapies to rebuild her mind, body, and energetic spirit. She would become stronger, wiser, and healthier than anyone expected.
Leonie's story will empower you with:
Health tips and practices that your doctor won't tell you about
The latest in healing information
Insight into helping others understand what it's like living with Lyme disease
The tools to live a better life, with quality relationships
Healthy practices to achieve a strong, vibrant body
Improved lifestyle choices.
Healing solutions
Whether you have Lyme disease, or know someone who does, Leonie can help. She dives deep into the latest information about creating real health, so you can become a stronger, thriving version of yourself.
$1 from every book sale goes to LDAA Lyme Disease Association of Australia
Click here to read more about or order the Edible School Gardens DVD!

How-to-do-it!

A Teacher or Parents resource guide for working with kids in designing and building the perfect home or school edible garden.

This DVD will be released in May 2012. To pre-order your copy just visit the below link:
"Edible School Gardens" DVD Order Form

For a sneak Peak of the trailer visit:
'Edible School Gardens DVD' trailer

Click here to read more about or order the Eat Your Garden Book!

Organic Gardening for Home and Schools

This book is a feast of edible gardening ideas. Centred around how to inspire children in the garden, BUT, kids or no kids, EAT YOUR GARDEN is a handy addition to any good gardeners collection.

Order your copy of this invaluable organic gardening book for Home & Schools right here onsite:

"Eat Your Garden" Order Form