Eat Your Garden Book Order Form
Get your copy of Organic Gardening for Home and Schools

With EAT YOUR GARDEN Leonie has compiled years of school and home garden experience into a practical guide which truly demonstrates for the rest of us the edibility of our gardens.

165 x 235 mm page size
144 full colour pages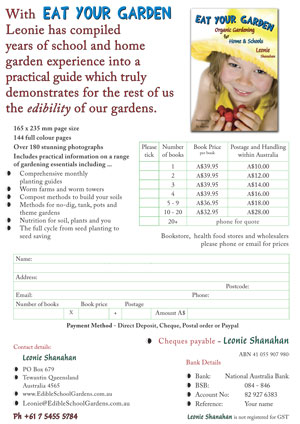 Over 180 stunning photographs

Includes practical information on a range of gardening essentials including...

Comprehensive monthly planting guides
Worm farms and worm towers
Compost methods to build your soils
Methods for no-dig, tank, pots and theme gardens
Nutrition for soil, plants and you
The full cycle from seed planting to seed saving
Eat Your Garden starts at $19.98 AUD for one copy plus Postage and Handling Within Australia. Please contact Leonie for overseas postage and handling fees.
Download your "Eat Your Garden" pdf Order Form NOW!
Click here for a '
Sneak Peak
' of the book before you order!

ORDER THROUGH PAY PAL